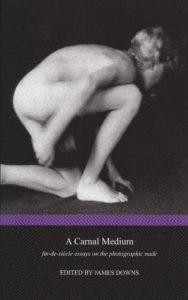 Welcome to the new WordPress website, which has undergone further changes in order to make it clearer to read and easier to navigate. This has resulted in the website being frozen in limbo for several months, and I apologise to those who have missed visiting. It is still very much a work in progress, and I am grateful for those who have contacted me with feedback and suggestions – which are always appreciated.
2017 was another busy year . The Ph.D has been submitted, sales of A Carnal Medium: fin-de-siecle essays on the photographic nude have been encouraging, and my new book, Joseph Pike: the happy Catholic artist has now been published by Matador. I have done two radio interviews, with David Fitzgerald on BBC Radio Devon and Lucy Tegg on BBC Radio Bristol & Somerset, during which I was able to discuss Joseph Pike's life and work live on air. In February 2016 my chapter on Anton Walbrook's performance as Prince Albert was published in The British Monarchy on Screen (Manchester University Press), but sadly I was unable to complete my biography of the actor in time for August 2017, which would have been the 50th anniversary of his death. As soon as the PhD is complete, I will be pressing on with this.
Various other (maybe too many!) creative projects reduced the amount of free time I had available to keep updating the website in recent months, but normal service has now been resumed – so you can expect regular blogposts covering the usual wide range of topics, most of which could fit under the umbrella term of 'visual culture.' After falling behind with my Carte-de-visite of the week series and the regular showcasing of artefacts from my collection of Anton Walbrook memorabilia, these are now picking up again. Watch this space for more developments!