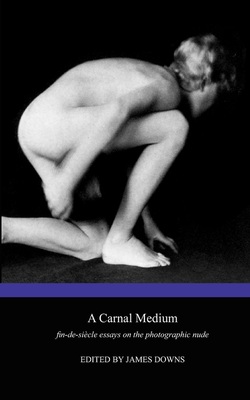 A Carnal Medium: Fin-de-siecle Essays on the Photographic Nude
Written and edited by James Downs
Paperback, 144pp,
48 illustrations in black & white
ISBN: 978-0957450103
This book was published in December 2012 after almost two years of research, transcription, writing and editing. The project was prompted by an exchange of e-mails with Callum James, a publisher, collector and bookseller, with whom I share a number of mutual interests. He asked if I would undertake the task of transcribing and editing a series of late 19th century essays on nude photography – to which I readily agreed.  Most of the essays were transcribed from the original volumes, some of which I owned already, others of which I needed to acquire. The transcriptions were carried out with meticulous care, but even so I had to continually check for typographical errors and we had a host of decisions to make regarding consistency in spelling and punctuation. I had to scan the images and also write a lengthy introduction, placing the essays in their context and elucidating some of the points that can be read between the lines. Both Callum and I believe that these essays formed part of a larger conversation about aesthetics, sexuality and representation in art at the turn of the last century, and that their republication could help stimulate debate as well as providing students and scholars with access to hard-to-find material.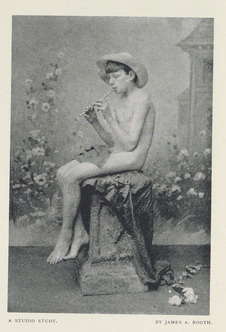 The appeal of the work needs no explanation, for the final decade of the nineteenth century possesses a power to intrigue and fascinate that seems only to grow with time. More than a mere decade, the 1890s continues to inspire works of both fiction and non-fiction. It is a period known by many names – fin-de-siècle, Decadent Nineties, the Beardsley Years, the Yellow Decade, even the Naughty Nineties – and populated by a coterie of literary and artistic icons whose work captured the spirit of the passing age. Despite a number of important developments in photography during this time, the subject has tended to be treated in isolation from this surrounding culture. The seven essays in this book on the subject of nude photography were published in The Studio, The Photogram or the Photographic Times between June 1893 and September 1898, and although their focus is on practical photography, the three authors make frequent allusions – veiled or explicit – to the wider world of arts and letters.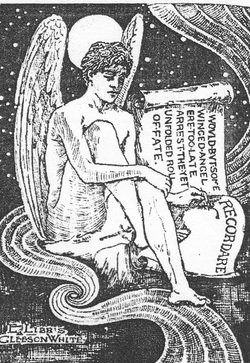 This is a decorative book plate designed by Gleeson White and taken from one of the many books in his library. he contents of his collection's A memorial fund was set up to support his widow, with money being raised by the public auction of his library. A Catalogue of the Books from the Library of the Late Gleeson White (Isaacs, 1899) was issued with a preface by Professor York Powell and lists 1,191 books, including a signed copy of The Picture of Dorian Gray.
The verse on the scroll is from stanza XCVIII of The Rubaiyat of Omar Khayyàm, . The fifth edition of Edward Fitzgerald's translation of The Rubaiyat was published in 1889, the same year that Gleeson White had an effusive poem in praise of Omar Khayyàm published in The Scottish Art Review (Vol.1, No.9, February 1889. p.268.)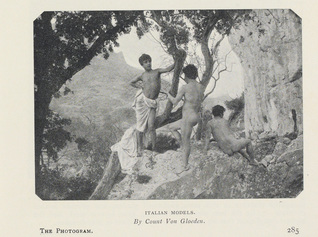 This is one of the many photographs in the book by Baron Wilhelm von Gloeden (1856-1931), taken near his villa at Taormina, in Sicily. Such Italian Models were favoured by painters and photographers, and regarded as being superior to English models for reasons both physical and psychological. The book presents some fascinating discussions about the truth of such claims.
Joseph Gleeson White's long meditation on the photographic nude in The Studio included reproductions of photographs by the Baron – the first time he had his work published in the UK. Soon, Taormina became a centre of pilgrimage for visitors including Oscar Wilde. the Prince of Wales, the Kaiser, Friedrich Krupp, Alexander Graham Bell and  Gabriele d'Annunzio.
In addition to the work of Von Gloeden and his cousin Wilhelm Pluschow, there are photographs by Frederick Rolfe (1860-1913), otherwise known as Baron Corvo. Rolfe had arrived in Christchurch in the summer of 1889 and was drawn, naturally, to the house of Gleeson White. Here he was introduced to the artist Henry Scott Tuke who specialised in painting open air nudes. Tuke gave Rolfe a sheaf of drawings of nude studies, which may be said to have inspired both his photography and his poetry.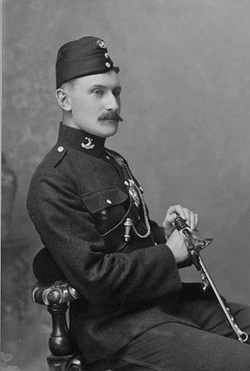 Gleeson White's essays, and the responses by Cust and Rooth, should be understood in relation to the "Uranian" circles with which they shared several links. Although Gleeson White does not appear to have been an active photographer, the two other essay authors – Robert Hobart Cust (1861-1940) and James Rooth (1869-1963) – certainly were, and illustrated their essays with their own work. All these photographs are reproduced in A Carnal Medium.
Rooth (pictured on the right) was a Colonel in the RAMC but spent most of his life living around Brighton and Hove, where he practised as a surgeon. In 1908 he helped deliver Daisy and Violet Hilton, the first pair of conjoined twins to survive into adulthood. He was presented to the King and Queen during a royal visit in 1915 when he had responsibility for twelve local hospitals, but mysteriously court-martialled and dismissed from the army in 1918.