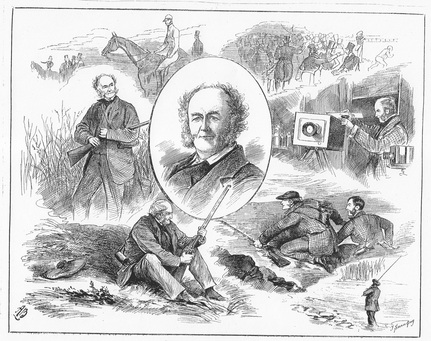 Yesterday's talk, given to the southwest branch of the Photographic Collectors' Club of Great Britain (PCCGB), provided an hour-long romp through the colourful life of Horatio Ross (1801-86), a pioneer photographer who worked with the daguerrotype, calotype and collodion processes, as well as a brilliant marksman and all-round sporting hero.
This illustration indicates the range of his achievements. The images are based on well-known paintings, engravings or photographs, by artists including Joseph Ferneley, Sir Edwin Landseer and Horatio's wife Henrietta.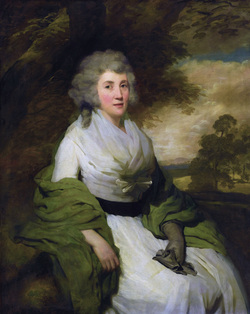 Horatio's grandmother, Henrietta Tod Parish, from a painting by Sir Henry Raeburn
Horatio's parents were Hercules Ross, who sailed to Jamaica in 1761 to make his fortune and sailed back into Falmouth harbour twenty years later in his own 36 gun frigate, and society beauty Henrietta Parish. They married in 1785 and four daughters were born before Horatio arrived on 5 September 1801. He was named after his godfather, Admiral Horatio Nelson, whom Hercules Ross had met and befriended in 1779. Henrietta's mother was painted by Sir Henry Raeburn; a copy of the portrait is reproduced above.The family were raised at Rossie Castle, a large mansion that Hercules had erected to the south of Montrose. Due to the war with France, Hercules raised a local Volunteer force which drilled on the lawn at Rossie. One day when Horatio was six, he was frightened by the rifle fire and ran into the house crying. His father, regarding this as a sign of weakness in the child, had his valet fire a gun several times immediately over Horatio's head each day from then on to accustom him to gunshot. Whatever other effects this may have had, the boy grew up with exceptional physical stamina. After six years in the army he threw himself into the sporting life, taking part in the first ever recorded steeplechase in Leicestershire (30 March 1826), a non-stop 97-mile walk from the River Dee to Inverness (19–20 July 1826) and a sunrise-to-sunset partridge shooting competition with Gen. George Anson (10 Nov 1828), as well as numerous other daring exploits and feats of marksmanship too numerous to mention here, but well-documented in contemporary literature. He was well-known enough to appear in Thackeray's Vanity Fair as well as in paintings by artists such as John Ferneley, Henry Alken, Francis Grant and Edwin Landseer. Large sums of money were staked on these races and competitions – Ross rode the steeplechase for £1,000, and three times that amount exchanged hands on other occasions.
Ross entered politics in his late twenties and was returned unanimously on 23 May 1831 as Whig MP for the Aberdeen burghs. He held this seat for eighteen months before defeating Radical Whig Patrick Chalmers in a contest for the Montrose district in December 1832. When the first reformed Parliament met early in 1833 Ross sat alongside the new Whig MP for Chippenham, Henry Talbot. Did he ever whisper to Ross on the benches about his latest experiments with photo-sensitive paper? Ross married eighteen-year-old Justine Henrietta Macrae in December 1833, exactly a year after Talbot's marriage to Constance Mundy. Constance Talbot was probably the first ever female photographer, but Henrietta Ross also turned out to be highly proficient with a camera. Between 1834 and 1843 she gave birth to five sons: Horatio Senftenberg John, Hercules Grey, Edward Charles Russell, Colin George and Robert Peel. Three of the boys shared their father's shooting skills, and all of them appear in his photographs, often captured during sporting activities such as fishing, archery and deer stalking.
Ross's photographic work began with daguerrotypes in 1843 or 1844, possibly inspired by contact with Talbot's friend Sir David Brewster, whose brother, the Rev James Brewster, was the local minister and a close friend of Ross.
This is
Hoddy and John Munro fishing at Flaipool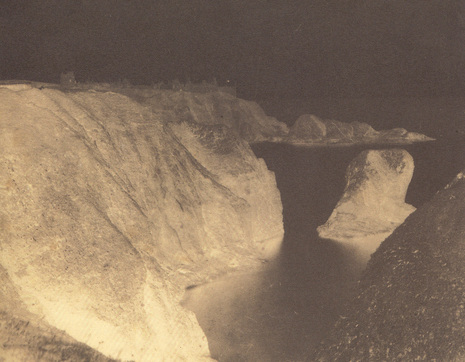 After receiving tuition from James Ross (no relation), Horatio took up the calotype process in 1849. However, he became dissatisfied with the calotype's inability to show the textures of his favourite mountain landscapes, and switched to the wet collodion process in the early 1850s. He made hundreds of photographic images during the 1850s, many of which were displayed at the exhibitions of the Photographic Society of Scotland, which Ross helped to found in 1856. His work shows great technical skill as well as a strong aesthetic sensibility in matters of composition and lighting.He was a true amateur photographer, in that he was an amator, or lover, of the art, and the seriousness with which he regarded his work is suggested by, for example, his use of paper negatives and his choice of literary quotations as captions.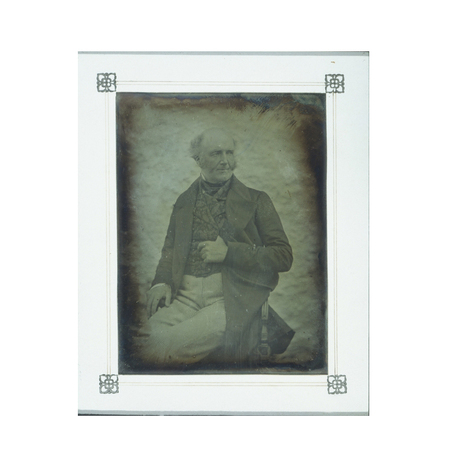 These are just a few brief excerpts from my talk, a full version of which will appear in the forthcoming issue of Photographica World.