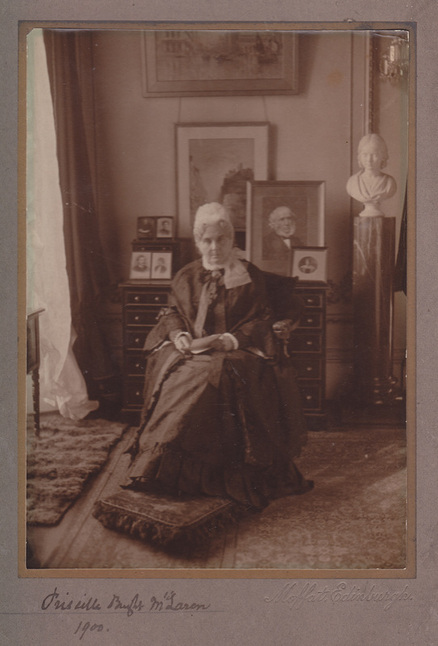 This cabinet card shows Priscilla Bright McLaren (1815-1906), the fifth of eleven children of Jacob Bright, who worked in the Rochdale cotton business, and the sister of reforming MPs John (1811-89) and Jacob Bright (1821-99), and the temperance campaigner and suffragist Helen Bright Lucas (1818-90.) Born on 8 September 1815, she was educated in York and Liverpool, spending much of her early life assisting her family with both domestic and political activities.
In 1848 she married Edinburgh politician Duncan McLaren (1800-86), who was later the city's Lord Provost as well as Liberal MP from 1865 to 1881. They lived at Newington House, in Blacket Avenue. McLaren had already been married twice and had several children, including Charles and Walter – both MPs – and medical pioneer Agnes McLaren (1837-1913), the tenth woman in Britain to qualify as a doctor; she converted to Catholicism in 1899 and helped set up medical missions for women in India. In all, a remarkable family who contributed greatly to welfare reform, women's suffrage and other philanthropy. She supported Josephine Butler in campaigning against the Contagious Diseases Act, which was eventually repealed in 1886.
Her husband died that same year and was buried in St Cuthbert's Churchyard. Ten years later she joined him there, having died from pneumonia on 5 November 1906.
This card was signed by the illustrious old lady in 1900, inscribed:
'With much love to her young friend, Dennis Kirkpatrick [?], from Priscilla Bright McLaren, aged 86.' It is stamped with the name of 'Moffat, Edinburgh', which suggests it was the work of Frank Pelham Moffat, son of the well-known photographer John Moffat (1819-94.) It may have been taken by one of his assistants – it was a large studio business with many employees – but it seems unlikely that the anyone else but the head of the firm would be entrusted with taking the portrait of such a revered Edinburgh character. The photograph has evidently been taken in her room at Newington House. In the background are several family portraits, including one of her brother John Bright. Can anyone identify who the young woman is portrayed in the marble bust on the right?