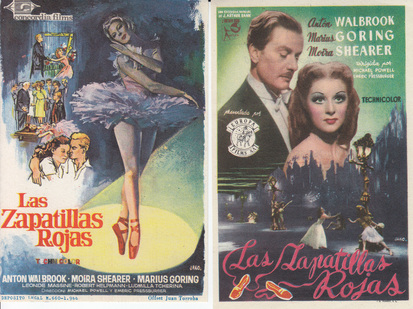 On this day, sixty five years ago, The Red Shoes received its world premiere at the Gaumont Haymarket and Marble Arch Pavilion. Both cinemas were part of the Gaumont chain, which was then owned by Rank – the decision to hold the premiere here, rather than at the prestigious Odeon in Leicester Square, was a mark of Arthur Rank's lack of appreciation for the film. It nonetheless proved highly popular with British audiences – and international ones too, as these Spanish posters indicate.  To celebrate today's anniversary, I'm posting a series of film stills – in black and white, alas, rather than glorious Technicolour.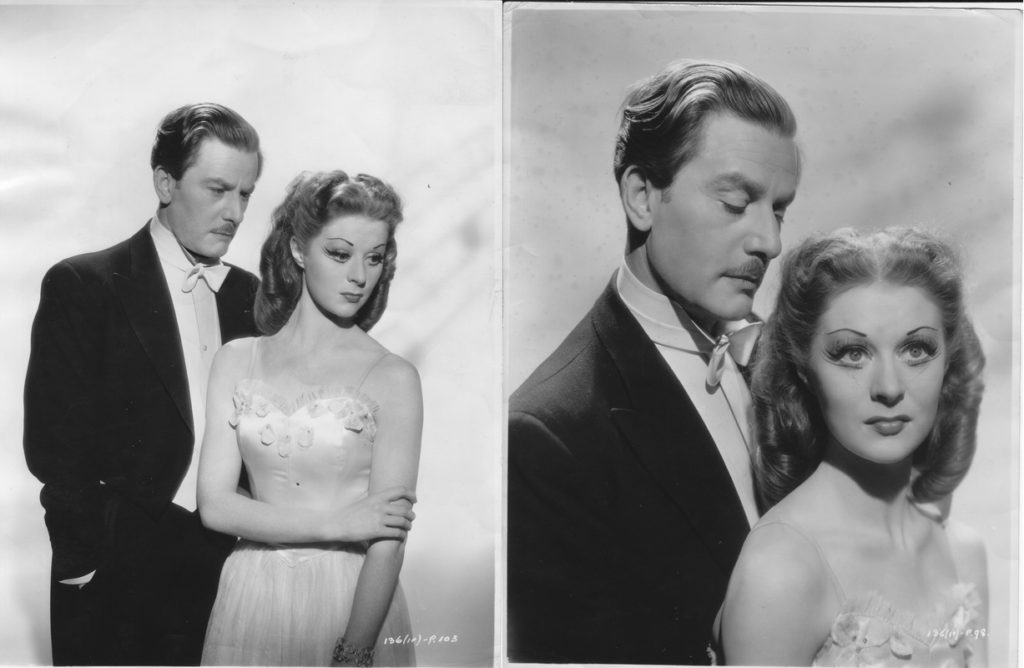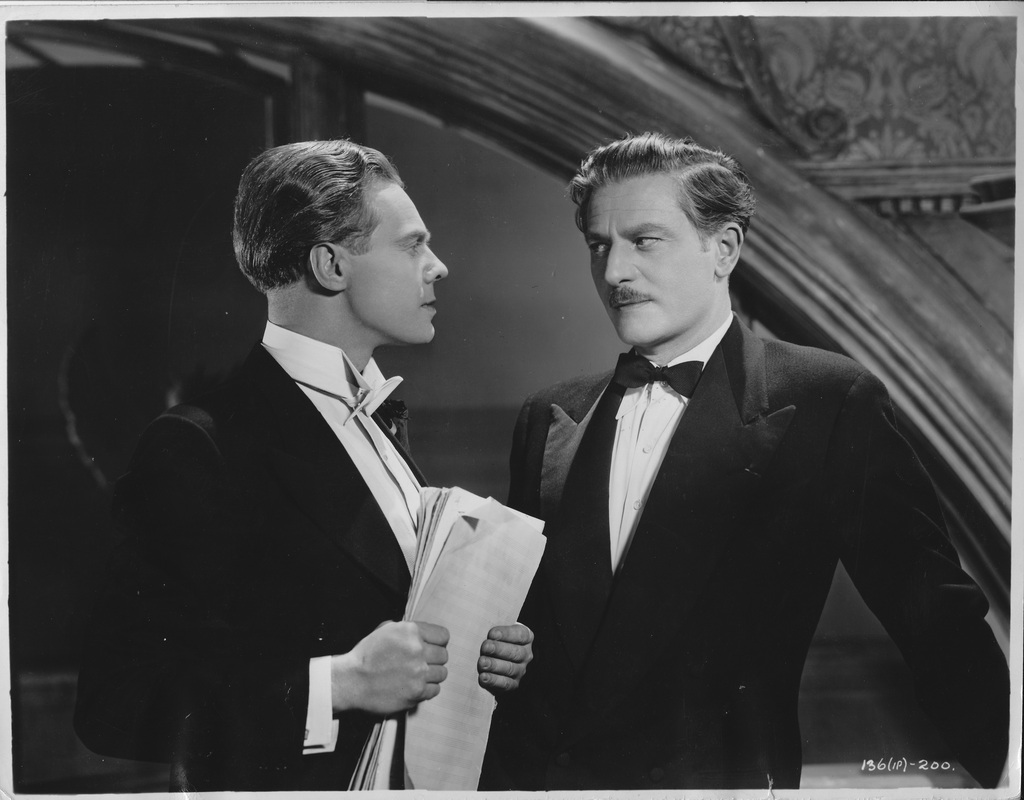 In this scene Lermontov's jealousy impels him to criticise Julian's score for La Belle Meuniere as 'childish, vulgar and completely insignificant' – a rare lapse in his professionalism, revealing the intensity of his feelings about Vicky's career. For him, there can be no compromise. Julian, however, dismisses ballet as 'a second rate means of expression,' perhaps recognising that he lacks the same dedication to art that Lermontov and Vicky possess.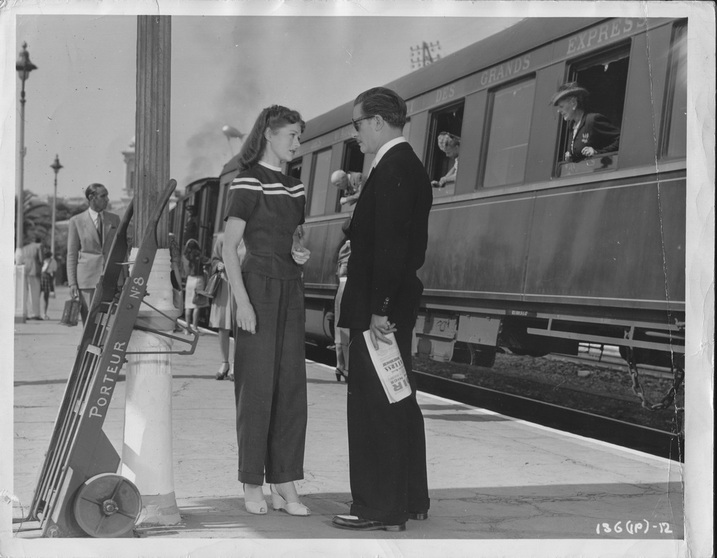 Vicky confronting Lermontov at the station in Monte Carlo in a vain effort to prevent him returning to Paris. He tells her he can make her 'one of the greatest dancers the world has ever known.' She knows this, but his cruelty towards her only serves to drive Vicky into Julian's arms.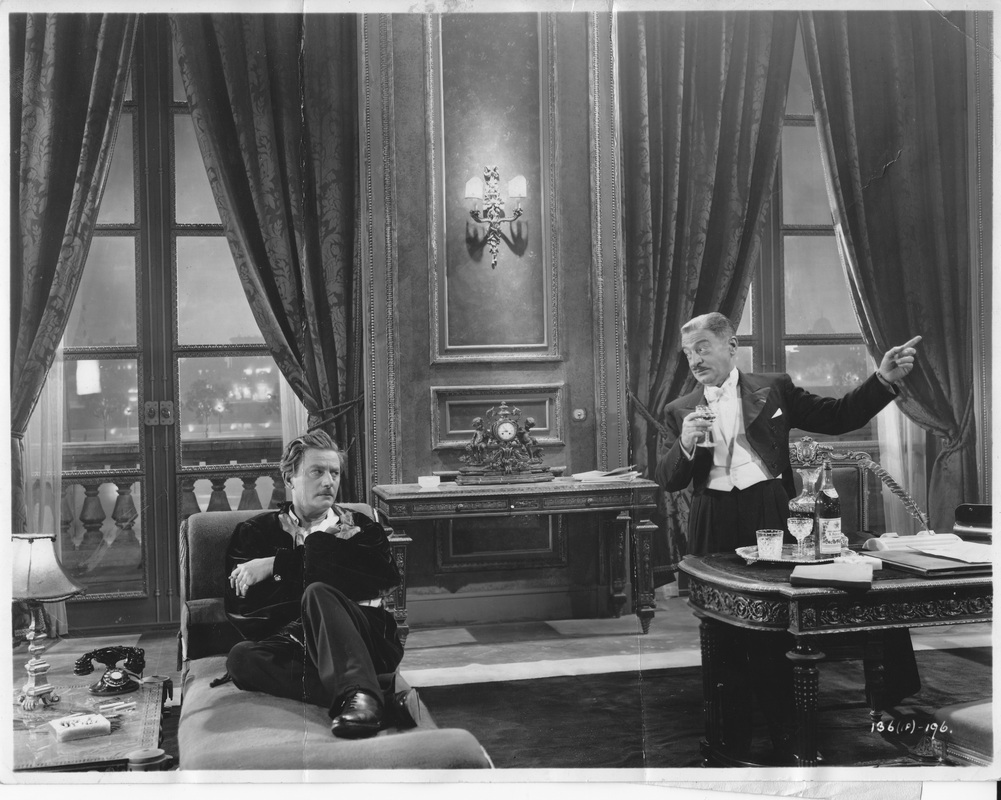 After learning of Vicky and Julian's marriage, Lermontov consults his lawyer, Boisson, about taking out an injunction to prevent them from presenting an independent production of The Red Shoes. Boisson was played by Scottish actor Hay Petrie, who died just a few days after the premiere. He gave memorable performances in several Powell & Pressburger films, including The Spy in Black (1939), Contraband (1940),  The Thief of Baghdad (1940), One of Our Aircraft is Missing (1942) and A Canterbury Tale (1944.) After The Red Shoes he played the part of Walbrook's servant in The Queen of Spades – his last role, before his untimely death in London on 30th July 1948.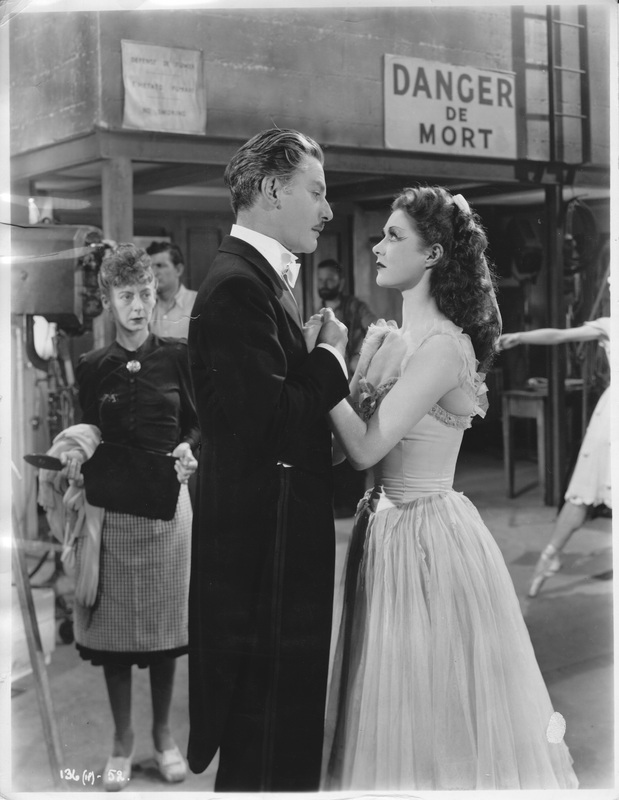 Danger of death…indeed.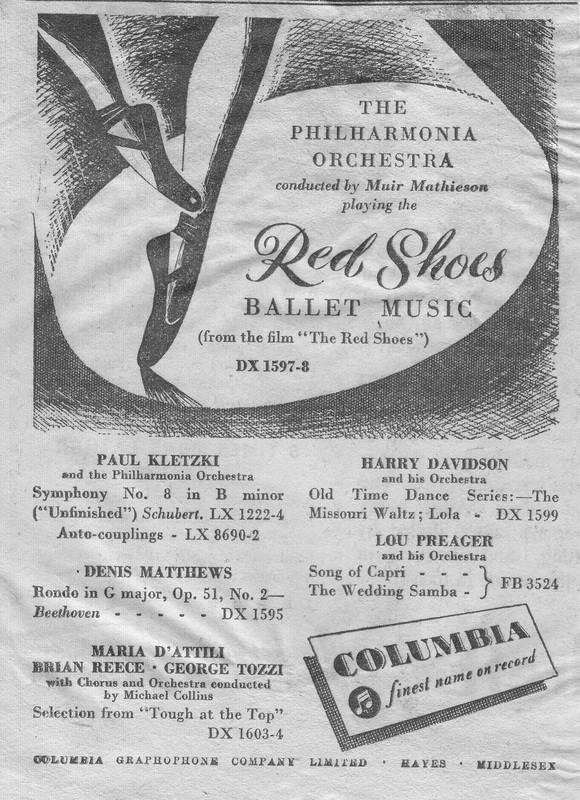 An advert for the Columbia record of the score from The Red Shoes. Mathieson was musical director for many of Walbrook's British films, including Victoria the Great (1937), The Rat (1937), Sixty Glorious Years (1938), Gaslight (1940), Dangerous Moonlight (1941) and 49th Parallel (1941). In 1935 he  married an up-and-coming ballet dancer, Hermione Danborough, who was familiar with the world portrayed in The Red Shoes – she had worked with Robert Helpmann, who plays Ivan Boleslawsky, and in 1929 auditioned before ballet impresario Serge Diaghilev, founder of the Ballets Russes and an obvious inspiration for the Lermontov character.  After marrying the composer, Hermione retired from ballet, even though she had only just turned twenty: the very 'fate' from which Lermontov was determined to save Vicky.