This is the first in a series of blog posts looking at some of the actresses who appeared onscreen with Anton Walbrook. As the title 'Leading Ladies' suggests, the focus is on those who played opposite AW after he established himself as a romantic lead: this will not be an exhaustive list of every actress who appeared in his films, and I've chosen to limit the scope to his sound films. In future blog posts I may return to some of the lesser known figures. As usual, the illustrations are taken from my own postcards, film stills and cinema programmes.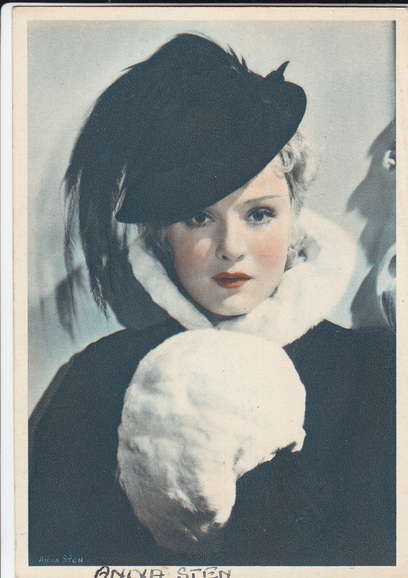 Anna Sten (1908-93)
Starred with AW in his first sound film, Salto Mortale (1931).
Born Anjushka Stenski Sujakevich to a Ukrainian father and Swedish mother, Anna trained at the Moscow Film Academy after being spotted on stage in her hometown of Kiev by Konstantin Stanislavsky, creator of the famous school of method acting.
Like Anny Ondra (of whom more below), she had a short-lived marriage to a director – Fyodor Otsep – in whose films she appeared. After her husband cast her in Der Mörder Dmitri Karamazov (1931), she came to the attention of Sam Goldwyn who brought her over to Hollywood and spent the next two years trying, without success, to launch her as the new Garbo. Cole Porter gently mocked their endeavours in his 1934 musical Anything Goes:
'If Sam Goldwyn can with great conviction
Instruct Anna Sten in diction
Then Anna shows
Anything goes.'

Just prior to this, Anna appeared in a number of Franco-German collaborations, of which Salto Mortale was one. French and German language versions of the film were shot simultaneously, with Sten, AW and Reinhold Berndt in the latter, playing three circus performers caught in a love triangle: Robby (AW) and Jim (Berndt) are friends who feed the lions and tigers, but who find themselves competing for the love of Russian stunt rider Marina (Sten.) When the circus launches a new attraction involving a highly dangerous trapeze act – the 'Salto Mortale' or 'Leap of Death' – Jim and Marina become partners on the trapeze while Robby operates the controls below. After a tragic accident leaves Jim with a damaged leg and unable to perform, he marries Marina, while Robby takes his place on the trapeze. Their deepening relationship places them in grave danger, for their lives depend on Jim releasing the trapeze with split second precision. As Jim sinks into drunken bitterness and jealousy, the stage is set for one final tragedy….
Anna divorced her husband in 1931 and married Russian-born producer-director Eugene Frenke, who followed her to Hollywood and enjoyed a successful career there. She made a brief appearance in Heaven Knows, Mr Allison (1957), which was produced by Fremke and starred Deborah Kerr, AW's co-star from The Life and Death of Colonel Blimp. Frenke remade the film in 1962 as The Nun and the Sergeant, giving his wife the role that Kerr had played. It was her last feature film, and she died following a heart attack in New York on 12 November 1993 at the age of 84.
The switch from silent to sound was a gradual transition, with the style and aesthetics of silent films carrying over into many of the early 'talkies.' This silent 'after-glow' is evident in Salto Mortale, which contains several scenes of slapstick and physical comedy, as well as some wonderful wordless sequences where meaning is conveyed without dialogue, through gesture and expression. It is a very physical film in other ways, with AW wearing vest tops and circus costumes that show off a muscular physique concealed through most of his career under a stylish wardrobe of lounge suits, evening dress and military uniforms.
Camilla Horn (1903-96)
Starred with AW in Die Funf Verfluchten Gentlemen (1932)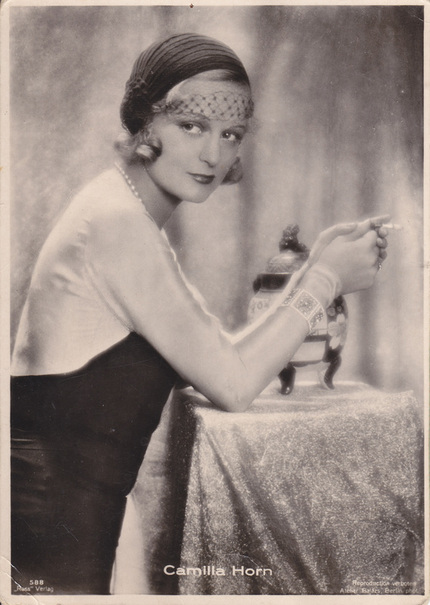 Born in Frankfurt-am-Main, Camilla began her career as a dancer and cabaret performer in Berlin, having studied acting under another of AW's co-stars, Lucie Höflich, whom I will write about in another blog. One of her earliest screen appearances was as an uncredited dancer in the 1925 celebration of the human body, Wege zu Kraft und Schönheit (Ways to Strength and Beauty.) She was working as an extra at UFA the following year when director F W Murnau chose her for the role of Gretchen in Faust. Recognised now as one the great masterpieces of silent cinema, Faust was an extravagant production filmed over six months at a cost of 2 million marks; it won Murnau a contract in Hollywood and launched Horn's career. She made a few silent films in Germany before following Murnau to Hollywood. Although Joseph Schenk cast her in two United Artists films opposite John Barrymore, her Hollywood career did not live up to expectations and she returned to Europe, making several films in Germany in the early 1930s.
Die fünf verfluchten Gentlemen (The Five Cursed Gentlemen) was directed by Julien Duvivier, who simultaneously filmed a French-language version: neither AW nor Camilla Horn appeared in Les Cinq gentlemen maudits although other cast members such as Allan Durant, George Péclet and Marc Dantzer were in both. The story begins with German millionaire Alexander Petersen (AW) and Camilla (Horn) on board a ship to Tangiers. She is travelling to visit her uncle Marouvelle at his farm near Fez. Petersen falls for Camilla, and is invited to spend a few days at her uncle's farm along with two English passengers, Midlock (Allan Durant) and Strawber (Jack Trevor.) On the way there they visit the ruins at Moulay-Idriss, where the Englishmen meet two friends, pilot Lawson and racing driver Woodland.After one of the men tries to remove a beggar girl's veil, her father – revealed now as a sorcerer – utters a curse upon the group: before the next full moon, all five will die, with Petersen being the last. It doesn't take long before the curse starts to be fulfilled – Midlock falls off a roof, Woodland dies in a plane crash and Lawson is found stabbed…but is everything what it seems?
The film was shot on location in Morocco, making superb use of the dramatic contrast between blinding sunlight and cool shadows, and is filled with exotic sequences of snake dancers, crowded bazaars and dancing dervishes.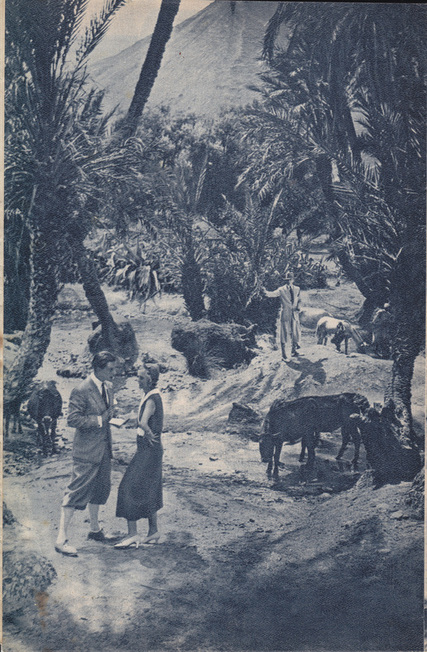 Camilla Horn did not star in any other AW movies after this, but she worked with many of his co-stars and colleagues and remained in Germany during World War Two. Distancing herself from the Nazi regime, she fell into disfavour and was prosecuted by the Gestapo for a minor financial offence. She struggled to find work in Germany under the Nazis, but despite a disappointing postwar career, she made something of a comeback later in life with Schloss Königswald (1988) alongside other actresses of her era such as Marianne Hoppe and Marika Rökk.
AW and Duvivier were, of course, reunited twenty years after this film in the dark, expressionistic L'affaire Maurizius (1954.)
Anny Ondra (1902-87)
Starred with AW in  Baby (1932) and Die vertauschte Braut (1934)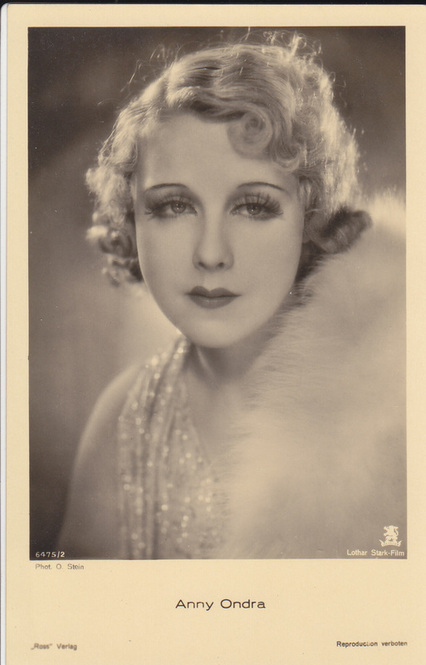 Anna Sophie Ondráková was born in Tarnów, near Galicia, and brought up in Prague where she began acting after leaving school. She came to the attention of actor-director Karl Lamac, who featured her in several of his silent films in the 1920s and eventually married her. In addition to her smouldering beauty, she proved herself a skilled and subtle actress, and it was not long before she became a huge star in Czech, French, Austrian and German films. Like AW, her career transcended national boundaries.
Anny's name was familiar to British audiences through working with directors Graham Cutts and Alfred Hitchcock, who cast her as Alice White in his first sound film, Blackmail, in 1929. Her thick accent required dubbing by an English actress, and realising that a career in British films was now closed to her, Anny settled in Germany and founded the Ondra-Lamac-Film company with her husband in 1930; the business lasted six years, continuing after she divorced Lamac and married champion boxer Max Schmeling in 1933. Both Baby (1932) and Die vertauschte Braut (1934) were produced by Ondra-Lamac Film.
In Die vertauschte Braut (The exchanged bride), Anny plays two roles – feisty American heiress Virginia Vanderloo and her double, poor street vendor Dolly. When Virginia is given a fortnight's prison sentence for flying a plane over New York – a crazy mishap following an argument with her pilot fiance Charles (AW)  – Dolly agrees to take her place in jail in return for $500 that will enable her to fulfill her dream of setting up a beauty salon. Unaware of the exchange, Charles goes to visit his fiancee in prison and finds his love rekindled by her unexpected gentleness and warmth…what has changed? And will he need to make further changes when the swap is revealed? The film ends with some farcical scenes Anny and skating snowmen in an ice ballet.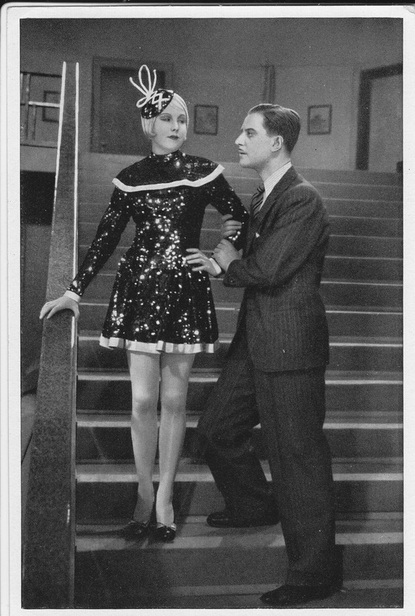 Another scene from 'Die vertauschte Braut'
Anny used her body to great effect in her performances – not simply in showing off her legs (as above), although she did a lot of that – but also in skilled slapstick and physical comedy. There's an amusing scene in Baby where she gets drunk and falls all over the room, in a performance that rivals that of Keaton or Chaplin. She plays a French heiress in the film, who meets two English aristocrats – Lord Cecil (AW) and Lord James (Willy Stettner) – while travelling to boarding school in England with her friend Susette. Things get complicated as the friends pretend to be showgirls, swap identities, join a (real) singing group called 'The Singing Babies' and get caught up in various escapades involving cross-dressing and an excess of drink! It's great fun, and AW even gets to show off his juggling skills.
                         ***
Still to come – Liane Haid, Luise Ulrich, Olga Tschechowa, Lil Dagover, Renate Müller, Paula Wessely, Anna Neagle, Diane Wynyard, Danielle Darrieux, Martine Carol and many more……