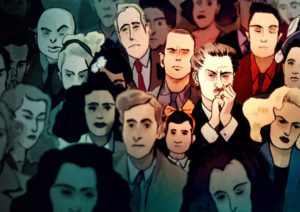 Well, it's almost time now to close down the exhibition, 'Anton Walbrook – Star and Enigma', which has been running at the Bill Douglas Centre for the History of Cinema and Popular Culture, University of Exeter , since 5 March 2013.
For this exhibition, artist Matt McLaren produced a remarkable series of over thirty pictures illustrating scenes from some of Walbrook's best known films, including Gaslight (1940), The Life and Death of Colonel Blimp (1943) and The Red Shoes (1948.)  The pictures were created by an unusual technique involving paper cut outs and miniature sets, which are then photographed. Matt recently graduated from the MA illustration programme at Camberwell Art College .
Anton Walbrook (1896-1967) – whose biography I am currently writing – was an appealing, enigmatic star, popular in two warring countries under two different names. Born Adolf Wohlbrück in Vienna , he trained under theatrical impresario Max Reinhardt and achieved great success on both stage and screen in Germany during the 1920s and 1930s, appearing in hit films such asWalzerkrieg (1933), The Student of Prague (1934) and Michael Strogoff (1935.) Leaving Germany in 1936 to escape the Nazis, he became Anton Walbrook and arrived in Britain via Hollywood in early 1937. Walbrook quickly won the hearts of British film goers with his portrayal of Prince Albert in two lavish biopics of Queen Victoria and his role in the hugely popular Dangerous Moonlight, but perhaps his best work was done in partnership with Michael Powell and Emeric Pressburger, with whom he made four films between 1941 and 1955. His postwar career involved work for the theatre, film and television in France , Germany and Britain , including two films with director Max Ophuls. He died in Germany following a heart attack on stage in Münich but – in accordance with his wishes – his body was returned to England and he was buried near his home in Hampstead.
The Bill Douglas Cinema Museum holds a wealth of material relating to Walbrook's life and career, including early German cinema magazines, postcards, films stills, theatre programmes and presscuttings. A selection of this material was on display alongside Matt's artwork. As well as curating the exhibition, I provided the accompanying text. Some of my personal collection of Walbrook memorabilia will also be on display, including an original costume worn for his role as Prince Albert . Now that the exhibition has ended, I plan to use this blog to share some more of my memorabilia collection and also provide updates on my progress with the biography.