Today I had my first glimpse of the cover of The British Monarchy on Screen, the forthcoming collection of conference papers that will include my own contribution, 'Walbrook's Royal Waltzes: Anton Walbrook as Prince Albert in Victoria the Great (1937) and Sixty Glorious Years (1938.)'
This was presented as a paper at The British Monarchy on Screen conference which took place at Senate House, University of London on 23 November 2012, and was accompanied by clips from the two films mentioned above, as well as from Walzerkrieg (1933) – in which AW stars as Johann Strauss – showing a waltz scene at the court of Queen Victoria. Below are some of the other images used to illustrate my paper:
The ISBN has been confirmed as 978-0-7190-9956-4 but it looks like the book won't be published until February 2016. In addition to my paper, there are some fantastic contributions covering a range of topics, including Dr Steven Fielding on 'The heart of a heartless political world: screening Victoria'  (which also discusses the two AW films), Professor Ian Christie on  'A Very Wonderful Process': Queen Victoria, photography and film at the fin de siècle', Victoria Duckett on 'Her Majesty moves: Sarah Bernhardt, Queen Elizabeth, and the development of motion pictures' plus studies of more recent screen portrayals of monarchy such as The Queen (Frears, 2006), the Showtime cable TV series The Tudors (2007-2010) and The King's Speech (Hooper, 2010.)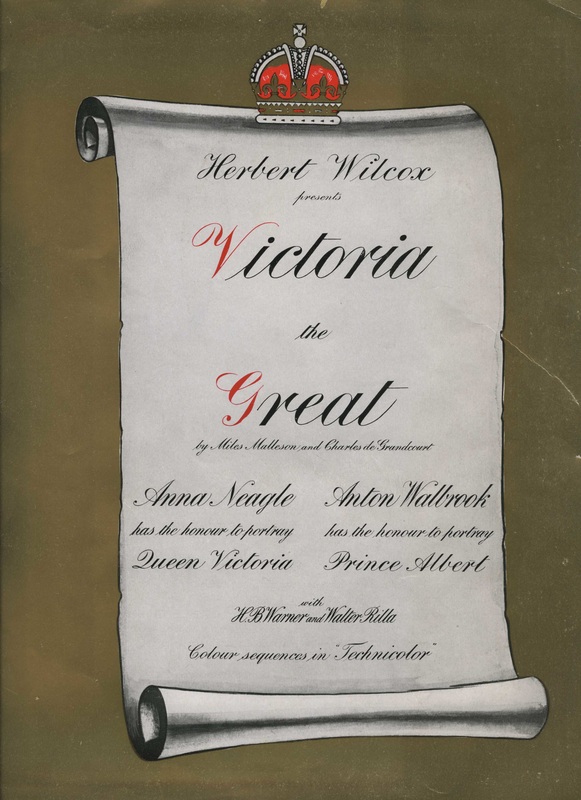 An issue that arose several times during the conference was the way that the monarchy and film-makers use each other's power for their own gain: royalty looks to prestige films to enhance public image, while cinema promotional materials (such as this advert) display lavish regalia suggesting the seal of royal approval.