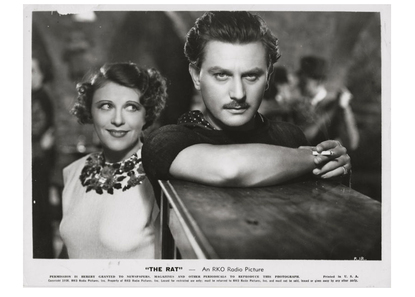 This is a promotional still for The Rat, a romantic melodrama set in the Paris underworld and starring Walbrook as jewel thief Pierre Boucheron. The character contrasted starkly with the role of Prince Albert, whom he had just played in Victoria the Great – a deliberate decision, no doubt, to demonstrate his versatility. The photograph emphasizes Walbrook's muscular masculinity, which – juxtaposed with Ruth Chatterton's curves and moon-eyed gaze – underscores his new image as a male pin-up. 
In the film he is portrayed as irresistible to women. Chatterton's character, Zelia de Chaumont, is a Parisian socialite who gets a thrill from mixing with the criminal low-life who frequent the White Coffin Club, 'the worst place in Montmartre.' She grows intrigued about Boucheron after watching him in a fight and the two of them enjoy a series of romantic trysts around Paris; her aim is to turn him away from crime, while his interest is really in her pearls.  Their two worlds collide when Zelie's wealthy, middle-aged fiance develops an unhealthy interest in Boucheron's innocent young ward, Odile (played by René Ray.) Murder ensues and the film climaxes with a dramatic courtroom scene.
The story was based on a play co-written by Constance Collier and Ivor Novello, who starred together in both the stage version and the 1925 silent film. Herbert Wilcox, who had directed Walbrook in Victoria the Great (1937) and would do so again in Sixty Glorious Years (1938), delegated direction of the film to Jack Raymond, but the film retained the hallmarks of a Wilcox production: it was made under the auspices of his Imperator company, for RKO distribution, with dialogue provided again by Miles Malleson. Filming took place in the summer of 1937 while Victoria the Great was in post-production; actors such as Felix Aylmer, Gordon McLeod and Hugh Miller appeared in both films. Shooting finished at the end of September 1937, allowing Walbrook to take his mother over to France to see Paris. Although most of it was shot at Denham Studios or in nearby countryside (e.g. the village of Harefield),  the film also used some real Parisian locations such as the Luxembourg Gardens.
Shortly after filming of The Rat was completed, Walbrook's former co-star at UFA, Renate Müller, was killed in a mysterious fall from a hospital window. They had starred in four films together: Walzerkrieg (1933),  Viktor und Viktoria (1933), Die englische Heirat (1934) and Allotria (1936.) The Nazis had tried to make her an Aryan pin-up girl, urging her to make anti-Semitic propaganda films and even attempting to force a romantic match with Hitler. Instead, she had continued her relationship with her Jewish lover, ending her life hounded by the Gestapo and addicted to morphine. Her death on the 7th October provided a dark reminder of the fate that might have awaited Walbrook had he remained in Nazi Germany. The Rat was released on the 11th November 1937.