I picked this up in a Soho bookshop some years ago after catching Faye Dunaway's eye from the other side of the room. The cover photo, showing Dunaway in the 1967 movie – wearing 'a tight mustard cable-knit sweater, a patterned silk neckerchief and beret – the classic Bonnie look' – is just one of dozens of eye-catching and beautifully-reproduced pictures in this book. Classic Hollywood Style is not, however, just a coffee-table book of sumptuous images, for the accompanying text is as rich and fascinating as the illustrations themselves. Writer and journalist Caroline Young has an excellent grasp of both costume design and cinema history, and the way she weaves the two together makes this book especially valuable.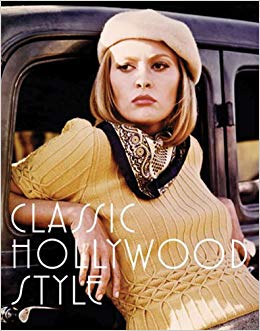 Arranged chronologically from Camille (Smallwood, 1921) through to The Thomas Crown Affair (Jewison, 1968), the author discusses costume designs from 34 films, including Greta Garbo's 'chic androgynous look' in A Woman of Affairs (Brown, 1928), Morocco (Sternberg, 1930), Gilda (Vidor, 1946), The Killers (Siodmak, 1946), and A Place in the Sun (Stevens, 1951), The Philadelphia Story (Cukor,1940) and its musical remake High Society (Walters,1956). Her analysis is backed up by a wide range of illustrations including costume design sketches, film stills, studio press releases, candid photos, movie posters, censorship records, behind-the-scenes production notes and contemporary magazine articles. Examination of the costumes is integrated with discussion of the movies themselves and the personal lives of the stars – such as how Ava Gardner's skin complexion influenced the lighting in The Killers and the rise of 'beret fever' after Bonnie and Clyde. This approach allows Young to explore not only the impact made by the movies on the fashion industry and popular culture, but also the reciprocal relationship between film stars and their favoured designers, and what distinguishes a movie star from a fashion icon. Designers discussed here include Travis Banton (who created outfits for Mae West and Marlene Dietrich), Academy Award winner Edith Head and Adrian, who designed the red slippers for The Wizard of Oz (1939) – copies of which were on display at the V&A's  "Hollywood Costume" exhibition in 2012.
As with almost any book devoted to fashion, there is a strong bias towards women's costumes and their impact upon female film-going audiences and consumers. Although I cannot claim to feel passionate about male sartorial issues, it would occasionally be interesting to read more about the significance and detail of costumes worn by male actors in relation to wider culture. With that in mind, Young's discussion of the costumes in Rebel without a Cause (Ray, 1955) and The Thomas Crown Affair (1968) were particularly welcome. In my paper on Anton Walbrook as Prince Albert, I looked in depth at how film-makers deal with portraying historical events, and Young makes some well-observed comparisons between the approaches to historical accuracy taken by different costume designers (p.61).
All in all, Classic Hollywood Style is an engaging read, highly-informative and lavishly-illustrated. It would make a good companion volume to Deborah Nadoolman Landis's Dressed: A Century of Hollywood Costume (London: Harper Design, 2007) and the massive exhibition catalogue for the V&A's Hollywood Costume. Caroline Young has gone on to write some other film-related books such as Hitchcock's Heroines, (San Rafael: Insight Editions, 2018) and Roman Holiday:  The Secret Life of Hollywood in Rome (Stroud: The History Press, 2018). Her website continues to discuss costumes in movies and is well worth a visit https://classichollywoodstylebook.wordpress.com/
Here's a full list of the contents:
Camille (1921) Rudolph Valentino and Alla Nazimova in Art Deco style
Our Dancing Daughters (1928) Joan Crawford and flapper style
A Woman of Affairs (1928) Garbo in a trenchcoat
Morocco (1930) Dietrich in a tuxedo
Queen Christina (1933) Garbo triggers bishop sleeve sensation
Flying Down to Rio (1933) Fred and Ginger's first billing
The Dancing Lady (1933) Joan Crawford – rags to riches
Cleopatra (1934) Claudette Colbert in Art Deco style
Jezebel (1938) Bette Davis in Civil War period costume
Gone with the Wind (1939) Vivien Leigh in Civil War costume
The Philadelphia Story (1940) Katharine Hepburn in slacks and elegant gowns
Kitty Foyle (1940) Ginger Rogers as modern working woman
Casablanca (1942) Bogart in fedora, trenchcoat, white tuxedo
Cover Girl (1944) Rita Hayworth as all-American girl-next-door
To Have and Have Not (1944) Bacall's wave hairdo
Mildred Pierce (1945) Joan Crawford and shoulder pads
Gilda (1946) Rita Hayworth's black strapless gown
The Killers (1946) Ava Gardner as the classic femme fatale
All About Eve (1950) Bette Davis's off-the-shoulder New Look dress
A Place in the Sun (1951) Monty Cliff as a rebel in biker's leathers, Elizabeth Taylor's white prom dress
A Streetcar Named Desire (1951) Brando's t-shirt
Gentlemen Prefer Blondes (1953) Monroe in burlesque pink
From Here to Eternity (1953) Deborah Kerr's halter neck bathing suit
To Catch a Thief (1954) Grace Kelly the Grecian, glacial blonde
Sabrina (1954) Hepburn's first Givenchy film, clean and simple style, boat neck dress
The Seven Year Itch (1955) Monroe's white halter neck dress blowing up
Rebel Without a Cause (1955) Dean in a red windbreaker – teen style
High Society (1956) Grace Kelly and cocktail dresses
Cat on a Hot Tin Roof (1958) Elizabeth Taylor in the white chiffon 'cat dress'
Imitation of Life (1959) Lana Turner in expensive gowns and jewels
Breakfast at Tiffany's (1961) Hepburn's little black dress (and gloves)
My Fair Lady (1964) Cecil Beaton's Edwardian Ascot
Bonnie and Clyde (1967) Berets, midiskirts, pinstripe and neckties
The Thomas Crown Affair (1968) Faye Dunaway's miniskirts, McQueen's Ivy Style
This is the first in a series of blogposts written as part of the #classicfilmreading written for 2018.