Most of the cartes-des-visites featured so far have been either British or European, so this week I thought I'd rove further afield and include an image from the Middle East. This portrait was taken by Pascal Sébah (1823–1886), who was born in Constantinople (now Istanbul of course) to a Syrian Catholic father and an Armenian mother.
He opened his first photographic studio in the city in 1857, with premises on Postacılar Street in the European side of Constantinople, separated from the old city by the Golden Horn. Now known as Beyoğlu, the district was then called 'Péra' by western visitors and residents, from the Greek Πέρα, meaning 'beyond'. From the outset, Sebah's studio aimed to attract tourists and westerners, exploiting their fascination with the exoticism of 'the Orient.' His studio actually bore the name El Chark (from the Arabic الشرق meaning 'the east' or 'the Orient'), which can be seen printed on the back of this carte-de-visite. (The Arabic characters are written in a decorative style which may be hard to decipher to the untrained eye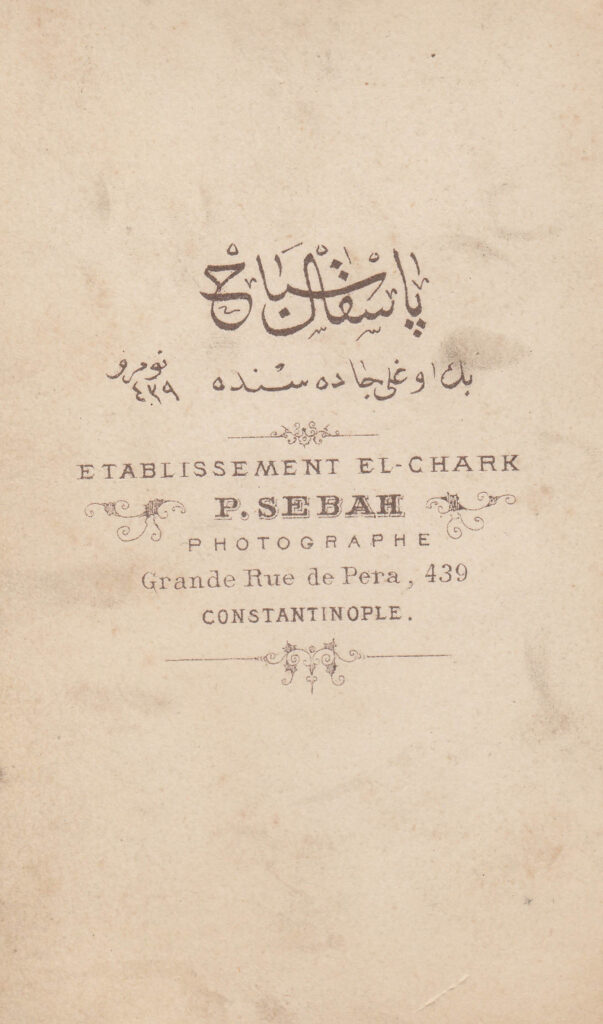 After three years he opened a new studio in a more upmarket location at 439 Grande Rue de Pera, which he ran with the assistance of a young French photographer named Antoine Laroche. Business fared well, and in 1873 Sebah opened another studio in Cairo. He not only made panoramic views of both cities and picturesque views of ancient ruins in Egypt, but also travelled to Greece to take photographs of popular sites there. The absence of any reference to Cairo on the back of the carte-de-visite – unlike the one below – suggests that this portrait was taken before 1873. Who the old lady was – a resident of Constantinople or a visitor – remains unknown.
In both Cairo and Constantinople, Sebah catered largely for western tourists, taking their portraits as well as producing images that aligned with their expectations of an oriental region of ancient mystery and exotic beauty. One of the most popular subjects for visitors was the depiction of locals in traditional Ottoman costume.
His experience in this type of image led to a collaborative project with the artist and antiquary Osman Hamdi Bey (1842-1910), founder of the Istanbul Archaeological Museums. Together they produced Les Costumes Populaires de la Turquie en 1873, [Popular Costumes in Turkey in 1873], a 370-page album that combined illustrations with detailed commentary by Victor Marie de Launay , and was submitted to the 1873 World Exhibition in Vienna. The album included Sebah's portraits of Kurds, Turkish women, Bedouin from Aleppo, and Armenian Orthodox clergy.
Bey had studied painting in Paris under the artists Gustave Boulanger and Jean-Léon Gérôme, both of whom were known for their Orientalist treatments of Middle Eastern subjects. Sebah also kept in close contact with developments in French art and photography, submitting his work to exhibitions in Paris, winning medals there and becoming a member of the Société Française de Photographie. Examples of these were printed on the back of his cartes-de-visites, as seen below: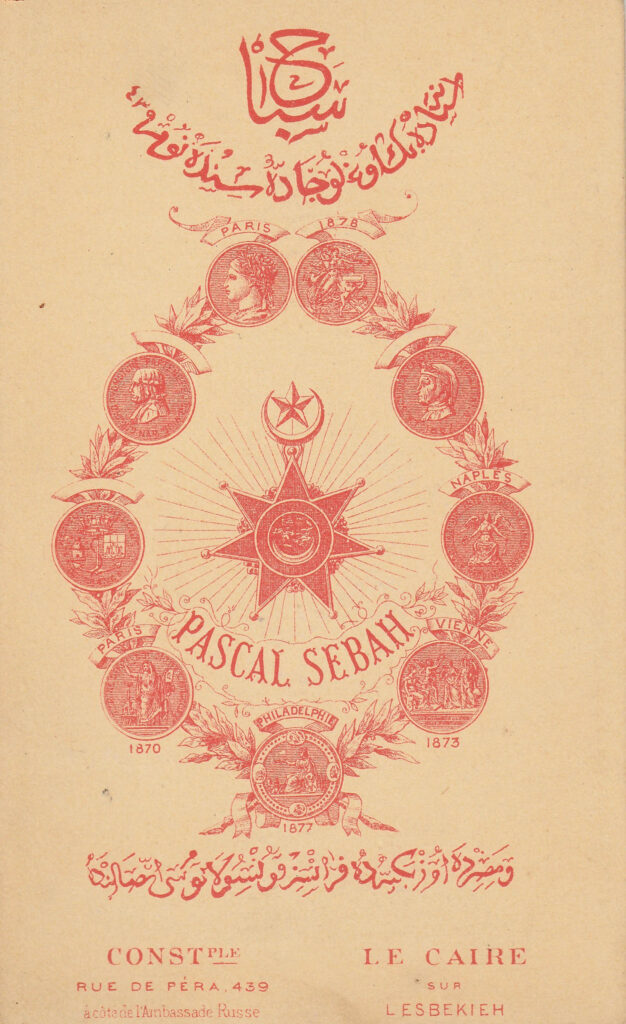 He was also involved in events closer to home, and was commissioned by Sultan Abdülhamid II to produce a photographic records of the changes then taking place in the Ottoman Empire. The Sultan's reign was a troubled one that saw rapid modernization and progress in education, alongside brutal repression of reformists and liberals, censorship of the press, war with Russia (1877-78), Armenian massacres (1894-86) and the gradual decline and collapse of the Ottoman Empire. Some of these photographs appeared in the French magazine Le Monde illustré.
Pascal Sebah suffered a stroke and died on 25 June 1886. He was buried in the Feriköy Latin Cemetery in Istanbul.
Following his death his business was managed by his brother Cosmi and then later by his son Jean Pascal Sébah (1872-1947), who joined the firm in 1888 at the age of sixteen. Jean went into partnership with another French photographer, Policarpe Joallier, and in 1890 their business was honoured with the title of 'Photographers to the Sultan.' Abdülhamid II commissioned thousands of photographs from Sebah & Joaillier and the firm enjoyed a distinguished reputation well into the 20th century. Jean Pascal Sébah died on 6 June 1947, at the age of 75.
For more on Sebah, see
Engin Özendes, From Sébah & Joallier to Foto Sabah: Orientalism in Photography (Istanbul: Yapı Kredi Publications, 1999)
Bahattin Öztuncay, The photographers of Constantinople: Pioneer studios and artists from nineteenth-century Istanbul (Istanbul: Koç Kültür Sanat Tanıtım, 2003)